Silverton Hotel Casino Reviews
Are You Ready To Learn Compelling Reasons For Visiting The Silverton Hotel Casino in Las Vegas? There are enough reasons why you should visit Silverton Hotel Casino as soon as you can. The first goal is that it is one of those Nevada Casinos online that have created a buzz. Yes, many players visit the casino with the aim of enjoying their favorite games, and they have never been frustrated.
But before we carry on with the very more delicate details of Silverton Hotel Casino, it is better to acquaint yourself with what is and happens in the casino. The casino is located at 3333 Blue Diamond Rd in Las Vegas.
Here are quick Silverton Hotel Casino facts:
Number of table games available – 23
Minimum bet amount – $0.01
The casino is open 24 hours each day
All visitors can access both self and valet parking at the casino
There are a whopping 1, 500 gaming machines
The amount of casino space is 69, 000 square feet
With all the expectations as mentioned earlier, there are many more things that you can prove entertaining that are located in and around Silverton Hotel casino. Yes, there are quite some social amenities that are likely to spur some form of thrills that you never expected when you decided to visit the casino. Here are some of the amenities you will find suitable for you and your loved ones that will make you come back next time: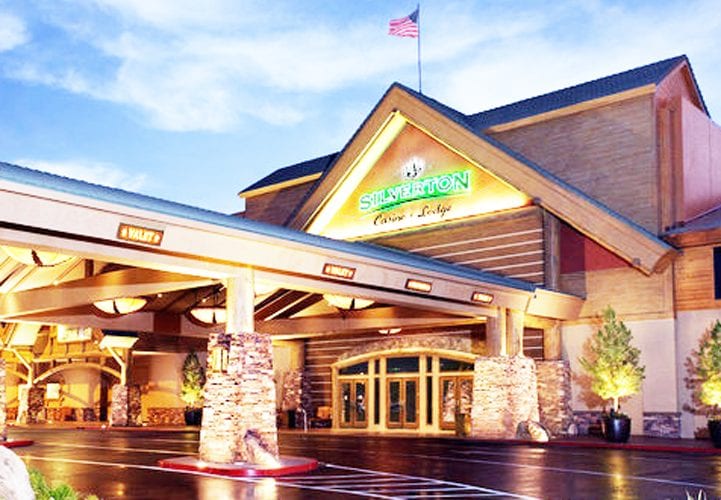 Pool and fitness center
Mermaid Lounge
Bara and Lounge
Shady Grove Bar
Entertainment Spots
Veil Lounge
Flare Bar and
A vibrant business center
Apart from the amenities mentioned earlier and the main thing, gaming, you will also find out that there are some restaurants at the Silverton Hotel Casino that serve visitors with delicious meals day and night. Here is a list of some of the restaurants that you can find at Silverton Hotel Casino. Note that the file only contains those restaurants that are frequented visited and have been reviewed by .many people. It is also important to note that these restaurants open 24 hours each day.
Therefore, you will not be required to disrupt your gaming to look for your favorite dish. You just order, and your food will be ready in minutes.
You will decide where to eat it from.
Check out this list:
Sundance Grill
Twin Creeks
Wu Hu Noodle
Seasons Buffet
Mi Casa Grill Cantina
Johnny Rockets
Starbucks
The Silverton Casino And Hotel Review
The history of Silverton Hotel Casino dates back to the 90s. Precisely, when the hotel first opened its doors to the public in 1994, it was referred to as Boomtown Las Vegas. But it did not take long after the grand opening of the Boomtown Las Vegas when Ed Roski purchased the property and after that renamed it Silverton Hotel and Casino.
In the following years through to now, there have been several renovations that have been done on the hotel to ensure that everything is upgraded to conform to modern gaming. In fact, many consider Silverton a rustic casino. You can reach the hotel by dialing (702) 263 7777 or visit Silvertoncasino.com.
Summary
Reviewer
Review Date
Author Rating