Palms Casino Resort Review

You can find Palms Casino Resort on 4321 along West Flamingo Road in Las Vegas. When you hear people talk about Nevada casinos, it is inevitable that Palms Casino Resorts be mentioned. They do so for a reason. With parking space for all visitors who check in throughout the day, to enjoy their various games and social amenities, Palms Casino Resort has always stood out as one of the highly visited Nevada casinos in recent years.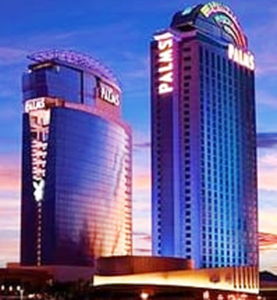 About The Palms Casino Resort In Las Vegas Nevada
This Nevada casino has seen revenue in the resort rise incredibly. The staff is also welcoming, which is ready to offer you a guide whenever you want as long as that does not interfere with the resorts other chores of handling clients. In general, Palms Casino Resort has some ten poker tables, 1, 300 gaming machines. And slightly over 90 table games that offer players opportunities to enjoy their favorite gaming sports.
The casino offers enough meeting space for those who would wish to hold their conference away from their places of work. Inside different boardrooms, you can find everything ready for your meeting. As such, some 65, 000 square feet has been set aside for holding large and small meetings. They say that it is possible to get famous in seconds after walking into Palms Casino Resort. You can also throw dice inside the facility and who knows if it might turn out that you are the winner of the day?
Those who love slots, poker or any other casino games should consider their cravings settled because all the necessary gaming equipment has been put in place. Asian gamers will have the opportunity to enjoy Pai Gow Poker as well as baccarat. Professionals spread sportsbook and Cantor runs. So you should not be afraid when you walk into Palms Casino Resort.
Other games Inside Palms Casino are:
1. Let it Ride
2.Midi Baccarat
3. Mini-Baccarat
4. Ultimate Texas Holdem
5. Video Poker
6.Craps
7. Blackjack
8.Slot machines
9. Roulette
10. Blackjack single deck
11. Blackjack switch
12. 3 Card Poker (Progressive) and
14. Blackjack double deck
The resort is frequented by celebrities from all genres thus everyone gets the ideal chance to hook up with these personalities and the time spent together might be valuable to both parties.
With close to 100, 000 square feet meant for gambling only; you can expect how the floor would be like each day of the week.
After gaming, you can take your favorite meal from any of the following Palm Casino Resort restaurants:
1. Alize
2. Simon Restaurant
3. 24 Seven Café
4. Nove Italiano
5.Bistro Buffet
6. N9NE Steakhouse
7. The Eatery for quick and delicious bites and
8. Fortunes
When you feel that it is time to slumber, you can book a room at The Palms Hotels. With rates ranging from as little as $55 to $449 per head per night, you will be assured to have a peaceful night rest after a long evening of enjoying your game.
For more candid information, contact The Palms Casino Resort by visiting www.palms.com or call them via (702) 942-7777 and (866) 345-5627, their toll-free number.
Summary
Reviewer
Review Date
Author Rating