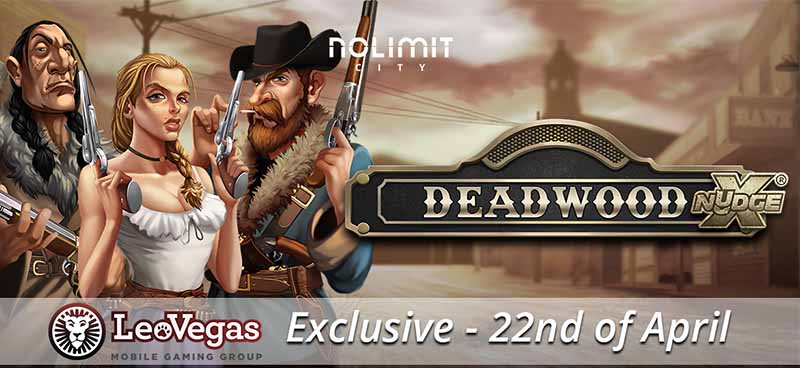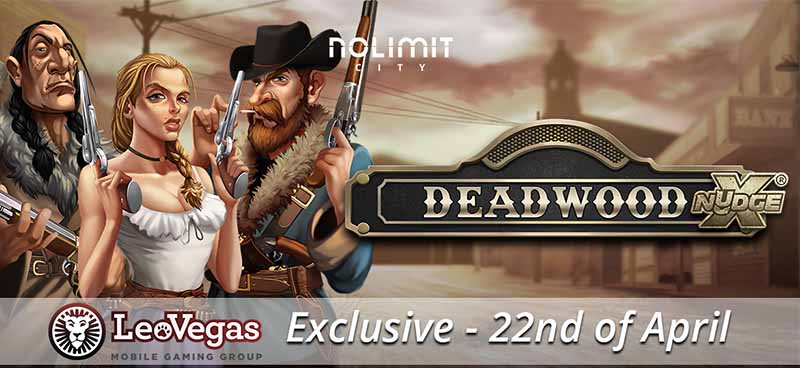 Collaborations between content providers and operators are a good way to feature a new game release. When the content provider is Nolimit City and the operator is LeoVegas, these new game releases are downright explosive.
Going back to this time last year, the duo had just debuted Tombstone. This game captured a player's attention right out of the gate. Described by Nolimit City as having "harsh gameplay" attributes, the game was also packed with unlimited potential. That potential had a tendency to "knock the wind out of most seasoned players."
What Is The Exclusive Slot Machine Title That LeoVegas And NoLimit City Launch Together
Who knew what to expect next with their latest collaboration. Sticking with the western theme, the company's website posted details on the next offering. The next mega timed-exclusive release is called Deadwood xNudge.
This game is being billed as an unofficial follow-up to Tombstone. Nolimit City is more than happy to ride the fame and popularity of nudging wilds as a game-changing mechanic. It is also taking the western theme to even higher levels with this release.
Interesting Article: Top Slots Supplier Teams Up With Wildz Casino In Twitch Promotion.
There was no doubt that Nolimit City lived up to its name with Tombstone. The overall popularity of that game proves that there really in no limit to how high it can raise the bar. Some of the company's more recent releases have also contributed to the cause with titles such as:
Punk Rocker xWays
Barbarian Fury
The Head of Sales at Nolimit City is Malcolm Mizzi. His comments on the new game included: "Having merely just discussed this over an informal catchup with our trusted partner LeoVegas, this turned out to be a great one-year reunion. Following our very first timed exclusive hit release!
He went on to add: "Hoping that history will repeat itself again. And Deadwood xNudge will please fans of the original western classic."
Interesting Article: NetEnt Releases a Sequel to One of Its Classic Games, Dead Or Alive 2.
The xNudge mechanic is the backbone of this new release. The setup is a 3-4-4-4-3 reel design. Putting math to the test, the max win outcome theoretically is 13,950x the bet. Players will have a choice between two of the following different bonus offers:
More frequent nudging wilds and less volatility
A sticky multiplier with every wild landed
The latter bonus offer hooks avid slot players looking for big-win potential. Overall, Deadwood xNudge is a must-play game at LeoVegas. Especially for fans of Tombstone. Those shoes are mighty big to fill but early indications suggest this new game is up to the task.
Nolimit City has an established business presence in Malta, Stockholm and India. Along with game development capabilities, the company offers an online casino platform. This in-house platform has been built from the ground up. It is designed to handle large volumes of play and social interaction.
LeoVegas is often referred to as "King of Casino". The parent company LeoVegas AB is registered in Sweden with the bulk of operations located in Malta. This is part of the reason why these collaborations have been so successful between the two. Gaming options are offered for casino, Live Casino and sports
• Source: LeoVegas and Nolimit City saddle up once more to launch Deadwood xNudge! From Nolimitcity.com On April 22, 2020.

49695
49695