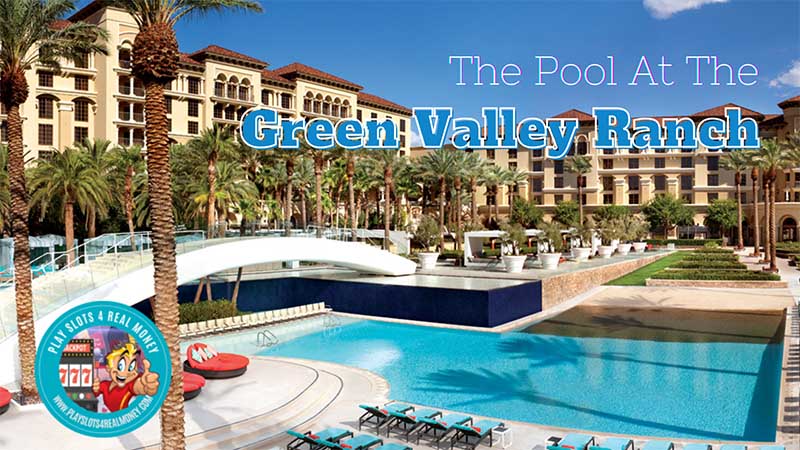 Green Valley Ranch Resort Spa and Casino has quickly become a favorite hotspot for Las Vegas, Nevada visitors. You can find it all at Green Valley Ranch, from the gaming you love, spa treatments, bars, shopping, and so much more. Read more how someone won a six-digit jackpot and a video poker jackpot at this resort. Check out the video below to go through a virtual walkthrough.
Green Valley Ranch Resort Spa and Casino Overview
Green Valley Ranch (GVR) opened in 2001. It was featured on the Discovery Channel and has gained major popularity since. It is well known for being a great inclusive party spot for people traveling to Vegas. From dining to gaming to wild partying, Green Valley Ranch has it all. It is also family-friendly for those traveling with children.
This resort and hotel has a 4.5 rating for hospitality and overall service. There are 500 top of the line suites of various sizes to accommodate any individual, couple, group, or family. The rooms at Green Valley are known to be "masterpieces," so you can't really go wrong with any choice.
Once you arrive at Green Valley Ranch, there really isn't a reason to leave. It is pretty much a city in and of itself. You can find all you need from dining to shopping to getting your hair done and working out.
There is plenty for the whole family and many kid-friendly spaces within the resort. GVR also has a movie theater, arcade, and a dedicated "kid zone." There are also certified childcare staff members at the resort.
Gaming and Poker at Green Valley Ranch in Las Vegas, Nevada
If you're like many, then you are wanting to try your luck with some gambling while in Sin City. You can find it all at Green Valley Ranch. There are over 2,200 slot machines, 55 table games, and even a new poker room at GVR. Popular table games include blackjack, roulette, craps, and more to come. You can even find a special "high stakes" area in the GVR casino if you are looking to bet the big bucks.
The new poker room at Green Valley Ranch has almost a dozen tables that open or close based upon the number of players in the room. There are usually at least 4 active tables. You can find no-limit holdem, limit holdem, and Omaha 8-or-better cash games. There are also weekly tournaments with just $40 buy-ins and $5 add-ons. They are re-entry and have an $800 guarantee.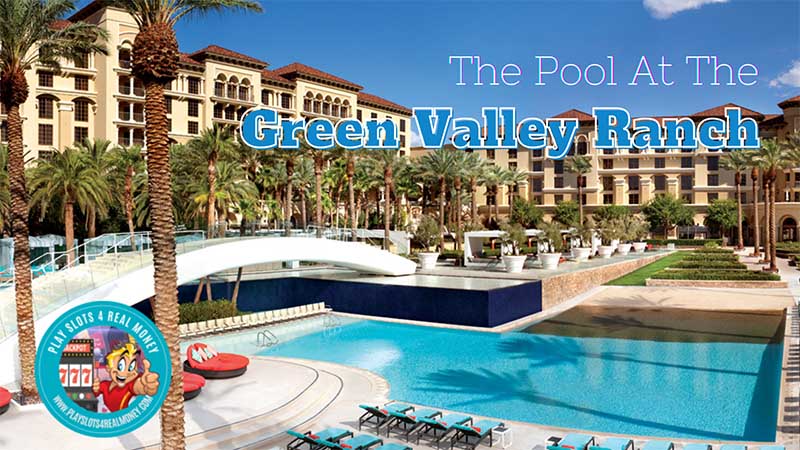 Restaurants, The Pool, The Spa, Bars, Shopping, and More at Green Valley Ranch
There is virtually an unlimited array of food to be found within the Green Valley Ranch Resort Spa & Casino. You can find fine dining or quick grabs. Hank's Fine Steaks is a favorite at the resort. You can find just about anything, though, with the number of dining options at GVR. The Grand Cafe is buffet/cafeteria style and is a favorite for guests at breakfast and lunch.
You can also find fare from all around the world at GVR. The resort offers traditional American style food if you're looking for a good burger or steak. They also have Italian dining, Mexican, Asian, and so much more.
There are several bars and lounges at GVR. You can find live entertainment on many nights at the resort. Two guest favorites are Sip and The Drop. If you're looking for nightlife, these are definitely two spots to visit during your stay.
There is even a Grand Hall that hosts concerts and events. This theater seats over 2,000 guests. Make sure to check out the event schedule to see if you want to book your trip during one of the many incredible shows offered at the GVR Grand Hall. You can also find outdoor concerts by the luxurious Grand Valley pool. Guests say they have experienced some of the best there.
Is Green Valley Ranch casino open?
The answer to the question' Is Green Valley Ranch casino open' is yes. It appears that Station Casino opened them back up as well as other resorts. More specifically, Station also opened Sunset Station, Palace Station, Boulder Station, and Santa Fe Station.
How far is Green Valley Ranch from Las Vegas Strip?
The Green Valley Ranch is in Henderson Nevada, not Las Vegas. However, it only takes between fifteen and twenty minutes to get to the Las Vegas Strip.
In Conclusion
No matter what you're looking for, you can find it at Green Valley Ranch Resort Spa and Casino. There's never been a better time to book your next trip. Whether it's just for you and friends or the whole family, you are sure to have the time of your life at GVR.
Who Owns Green Valley Ranch Casino?
Station Casinos owns the Green Valley Ranch. Furthermore, this casino resort has a luxury hotel with tons of amenities. For instance, a spa. Also, you can find this casino resort fifteen minutes outside of Las Vegas in Henderson, Nevada.
Does Green Valley Ranch Allow Pets?
If you are looking for a hotel resort that allows Nevada pets, The Green Valley Ranch allows two dogs that weigh less than fifty pounds. When you check-in, your fluffy friends may be greeted with a special "doggie bag" as a welcome gift. That said, you should always contact the hotel to make sure your pets qualify.
The following two tabs change content below.
Drake Achilles is a college student from Canada. He has been in the business in one way or another from the majority of his life. He brings knowledge and experience to the Play Slots 4 Real Money website.
Latest posts by Drake Achilles (see all)